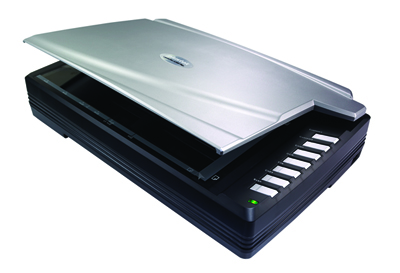 Large format scanning
Large format scanning of A3 size document (304.8 x 431.8 mm / 12" x 17")
Fast scanning speed
Fast scanning speed of 2.4 seconds for an A3 size color document at 300 dpi
One-touch buttons
Seven one-touch buttons for performing pre-set functions enable the user to quickly: scan, file, copy, OCR, create PDFs and email.
User friendly bundled software
Bundled with simple-to-use image processing and document management tools, fast and secure PDF conversion, image organizer with thumbnail viewer, and accurate OCR software.
| | |
| --- | --- |
| Optical Resolution | 600 dpi |
Scan Modes
Color: 48-bit input, 24-bit output
Grayscale: 16-bit input, 8-bit output
B/W: 1-bit output
| | |
| --- | --- |
| Kleurintensiteit | Input 48-bit; Output 24-bit |
Scanning Speed
2.48 sec (Color mode, 300dpi, A3)
2.10 sec (Grayscale/ B&W mode, 300dpi, A3)
| | |
| --- | --- |
| Scanning Area (W x L) | Max. 304.8 mm x 431.8 mm (12" x 17"), A3 |
| | |
| --- | --- |
| Daily Duty Scan ( Sheets ) | 2,500 |
| | |
| --- | --- |
| Action Button | Scan, OCR, Copy, File, Email, Custom1 & Custom2 |
| | |
| --- | --- |
| Power Supply | 24 Vdc/ 1.25 A |
Power Consumption
1.Scan to PDF
2.Save to searchable PDF
3.File to multi-TIFF(to one file)
4.File to PDF
5.Scan to JPG
6.OCR utility
7.How to setup email on PC
8.Email to PDF
9.FTP to PDF

10.File to Dropbox
11.File to Google Drive
12.Remove background
13.Multi-image output
14.Continuous scan
15.Business card scan
16.Long paper scan
17.Merge pages

Industry standard TWAIN drivers ensure compatibility with thousands of image enabled applications including: document management, document capture, enterprise content management, forms processing, photographic imaging and image management applications.

Unlocks the data inside paper-based documents, images and PDF files with enhanced accuracy that eliminates the need for retyping and reformatting. Tool that increases your productivity and efficiency which comes with simple user interface and supports recognition up to 183 languages. Great features include:
Convert scanned document and images into Microsoft Word, Excel, searchable PDF and other formats.
Superior recognition accuracy & layout retention in 183 languages
One-click smart conversion for easy access – no learning curve
Multi-language recognition with automatic language detection
Instant on-screen OCR and capture with bonus ABBYY Screenshot Reader
State-of-the-art ADRT (Adaptive Document Recognition Technology) technology precisely preserves document formatting and style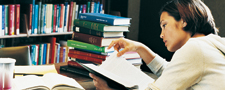 The UNIVERISTY OF KANSAS SCHOOL OF MEDICINE
ON SALINA CAMPUS GOES GREEN WITH HELP FROM PLUSTEK'S ST BOOKSCAN CENTER
Plustek Helps Medical Campus achieve its Goal to Go Digital
The University of Kansas School of Medicine-Salina opened in July 2011 as an innovative medical education program designed to address the shortage of rural doctors in the United States. The goal of the program is to attract medical students with a strong interest in practicing rural medicine and encourage them to stay and build their own practices in rural areas after earning their degrees and completing their residencies. The new campus' curriculum is tied to the classroom offerings at the KU Medical Center's campuses in Kansas City and Wichita. The learning process relies heavily on video-conferencing, with students in Salina participating in lectures with their peers in other cities and receiving many of their lectures via podcast.
To keep the program functioning at its highest potential, Salina campus leaders decided that the best way to streamline costs was to go green by using products such as scanners that are more cost-effective than printers and reduce paper waste.
School administrators reviewed their options and were leaning toward a large and expensive book scanner that had been used with great success on another campus. Before deciding on purchasing it, they were introduced to Plustek's ST BookScan Center, which offered features similar to the larger scanner but was more cost-effective. Because of its size and price point, KU School of Medicine-Salina administrators opted for the ST BookScan Center. They believed the ST BookScan Center was a good match for the school's highly computerized curriculum. School administrators believe the medical students will find it more suited to the electronic delivery of course materials than a traditional copier. 2
"We're hosting a new generation of students who are much more comfortable and tech-savvy than ever before, so I'm sure they will think of endless ways to use the scanner in ways we haven't even discovered," said Lucy Kolhoff, senior coordinator, KU School of Medicine, Salina campus. "Because of the distance from the main school, our campus uses digital methods of communication, so the ST BookScan Center works well with what we've been trying to create, which is a highly accessible place to learn and retrieve information quickly."
Currently, Kolhoff is using the ST BookScan Center for archiving and digitizing documents that are easily sent to the main campus. The scanner is located in an accessible spot that allows medical students to readily scan library materials to thumb drives and emails as well. Kolhoff believes that the Plustek ST BookScan Center would be ideal for businesses and educational facilities that rely heavily on paper and toner but want to go green. Kolhoff said that its user-friendly software made the ST BookScan Center simple to understand and easy to use.
An ideal alternative to the copier, the Plustek ST BookScan Center can scan books and large format documents to a USB flash drive, shared network folder, FTP site, email address or even a printer. The system is easy to use and does not require user training. Prompts on the touch screen display guide users through the scanning process and enable them to save books, bound materials and documents in a variety of formats including searchable PDF. The ST BookScan Center was created based on the concept of book preservation, digitization of content and sharing of the book electronically. It can scan up to A3 size page (12" x 17") in just 2.4 seconds. Thanks to Plustek's patent pending SEE technology, spine shadows and distortions are eliminated and thick books are scanned without unbinding or dismantling making it a perfect solution for digitizing precious and valuable books and documents. The optional coin-op/card-op payment system can be added for organizations that want to generate revenue from the use of the system.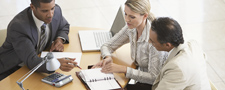 Accounting practices rely on paper documents and processes. Paper documents are problematic for your business because they must be manually filed, cause office clutter, are difficult to find and share. As your practice grows, so does your pile of paper documents and this causes you spend more time and money filing, retrieving and sharing these documents.
Typical Accounting Documents
Audit worksheets
IRS tax forms
Evidential documents
Proxy statements
Correspondence
Source documents
Advisory letters
Invoices
Receipts
Plustek document scanners will help you organize and electronically file your paper documents. Sharing documents with customers and colleagues becomes as simple as loading documents and pressing a button. Imagine a clutter free office with no stacks of paper! With a Plustek scanner, sharing and organizing your documents is simple!
Easy to Use:
Plustek scanners feature DocAction single touch scanning. At the touch of a button, you can save a document to any one of up to nine different destinations including: folders on your PC or network, email, FTP or even your printer. Thanks to the flexibility of DocAction and the industry standard TWAIN drivers that are supplied with Plustek scanners, you can scan directly into your accounting or document management application.
Built in image enhancement ensures the highest quality images with the least amount of work. Documents are automatically adjusted for brightness, automatically cropped to the proper size and rotated. The result is higher OCR accuracy and fewer rescans.
Flexible:
Digitized documents can be saved in many different formats including: searchable PDF, MS Office, TIF or JPG. You can scan tabular data and edit it in Microsoft Excel. You can scan and edit a paper documents in Microsoft Word and if you have standardized on PDF, you can save your documents in either searchable PDF or image only PDF format.
Also, Plustek scanners come with a software bundle that includes: Optical Character Recognition (OCR), document management and business card reading software.
Searchable PDF:
All Plustek scanners will create searchable PDF files with the touch of a button. Searchable PDF files make your information easy to find and share. Any desktop search software can be used to quickly locate searchable PDF documents by searching by client name, tax ID number or any data on your paper documents. No more miss filed documents! Another benefit of using searchable PDF is document sharing. PDF files can be read on all computer and mobile platforms including Windows, Mac, Unix, Linux, Android, Windows Mobile, and Apple iOS (iPhone, iPad, iPod).
Value:
Plustek document scanners document scanner are designed with the image quality, paper handling and reliability required by the most demanding business users but at a price point attractive to small office and SOHO users. You can easily cost justify a scanner for each member of your firm.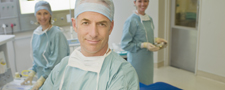 In the paper world, when a patient checks in with the front desk department, the receptionist has to leave his/her desk to make photo copies for the patients' identifications and insurance cards. Staff in hospitals and clinics are overwhelmed by diverse paper documents such as insurance forms, patient documents, lab requests, referral letters, EOBs, etc. The billing department staff rummage through paper files to find insurance claims, denied claims or late payments from the healthcare payers.
Are those scenes familiar to you?
Appropriate deployment of scanning and imaging is essential to address the paper-to-digital challenges in healthcare environments. Whether looking for scanning solutions for the front desk, point of care, back office accounting and patients' medical record management, Healthcare groups can choose from a range of portable, mobile, workgroup, and departmental scanners from Plustek.
Plustek scanners, ranging from small sheetfed to desktop flatbed with automatic document feeder, meet diverse card and document capture needs of the healthcare industry. All Plustek scanners connect to notebook or desktop computers via a USB port and are delivered with the industry standard TWAIN drivers, offering easy integration and compatibility with your healthcare software applications. As the leading global scanner manufacturer with two decades of expertise in scanner hardware design and software/firmware development, Plustek is able to deliver scanners featuring high throughput, functionality, flexibility, reliability and competitive pricing.
Plustek scanners reduce registration time, automate your data entry, improve data accuracy, speed up claim processing and meet the compliance requirements (HIPAA, Sarbanes-Oxley, and others). Whether it is an admissions process, patient records or a doctor's office environment, Plustek scanners make short and easy work out of converting paper into digital documents filing. Plustek healthcare solution scanners offer the optimal value and performance.
Plustek's Patient Registration Desk and Mobile Solutions for Quick Scanning Anytime, Anywhere
In the patient registration area, Plustek scanners are used to scan and digitize: insurance cards, driver's licenses, corporate ID cards, credit cards, business cards, HIPAA forms, patient documents, payment checks, receipts, medical prescriptions, claim documents, invoices.
This series of Plustek scanners feature small footprint and high versatility. They fit neatly into your limited front desk space or a point of care mobile cart. Workers are more productive because the scanners can easily fit into their existing work environment. Their portability allows these scanners to be used at the point of patient intake or patient care.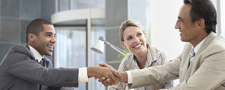 The Plustek EZ BookScan Center copies, scans and prints ledger size — making legal and archiving work effortless
Becky Haydel has been a successful Deputy Clerk of Court in Franklin, Louisiana for many years. Becky's responsibilities include scanning and archiving all of the original documents filed with the City for land pre servation purposes. The job role requires her to ensure that all public documents and records are available to the general public for review and copying in an ongoing and timely manner. Her scanning duties become even more sensitive (and time intensive) when it comes to scanning aged (and often bound) documents that are susceptible to damage when scanning in the traditional fashion.
"I use the Plustek EZ BookScan Center several times throughout the day to produce copies of the original documents that have been bound into book volumes," explained Becky. "This Plustek GreenScan System saves me time because it allows me to scan my next document page while the first page is printing."
Although the courthouse had an old book copier that was modified by Binder Minder and still worked, it would not allow them to copy up to the book's binding. Adam Crappel, of A & E Office Machines, Inc., spoke to Becky about a different option. He introduced the idea of using the Plustek EZ BookScan Center which consists of a Plustek OpticBook A300 scanner, kiosk-like software, and a touch-screen computer, and printer that would operate similarly to their original copier, but would provide more features. This solution proved more efficient with better copy quality and ease, using touch screen display allowing her to see the scanned document before it printed.
Becky finds relief in a dedicated document and book scanning solution that is convenient, efficient and produces quality images. The Plustek EZ BookScan Center scans an A3-size page in just 2.4 seconds, creating a crisp, sharp image, which can then be turned into different formats. The solution includes highly effective image processing, fast and secure PDF conversion and highly accurate optical character recognition (OCR) software. The scanned output can be saved to a flash drive or shared network folder, sent to an email address, printer or FTP site, Becky found these features in the Plustek EZ BookScan Center more advantageous than the features in their previous photocopier/software hybrid.
"The Plustek GreenScan System is very useful in producing excellent scanned copies from our older bound records," said Becky. "Producing quality images and saving me time makes my job easier."
One of Becky's main responsibilities is assisting anyone doing research with the court's records. "Saving time on scanning documents has allowed me to give assistance to those who need it, when they need it."
The Plustek EZ BookScan Center is an ideal solution for libraries, schools, graphic designers, publishing companies, hospitals, law firms, court houses and financial institutions. The Plustek EZ BookScan Center scans thick books without unbinding or dismantling them, making it a perfect solution for digitizing and preserving precious and valuable books. Particularly useful with bound materials, the Plustek EZ BookScan Center also includes a patented design that eliminates the book spine shadow and text distortion of traditional book copying and scanning. Plustek's patent-pending SEE? Technology (Shadow Elimination Element) combines a patented lamp light with a special edge design that allows the scanning module to scan right up to where the book spine is placed. This clever design avoids the need for a large, expensive overhead scanner or complicated image-editing software. With Plustek's SEE? Technology and the Plustek GreenScan System's clearly-scanned pages, Becky is able to produce perfect scan results, even near the binding.
Plustek OpticPro A360 продается в 7-ти магазинах. Выберите подходящий Вам интернет-магазин и перейдите по ссылке «Купить».
На сайте магазина Вы сможете оформить заказ через корзину либо проконсультироваться с менеджером магазина и договориться об условиях доставки по телефону.
планшетный сканер, формат A3, интерфейс USB 2.0, разрешение 600 dpi, датчик типа CCD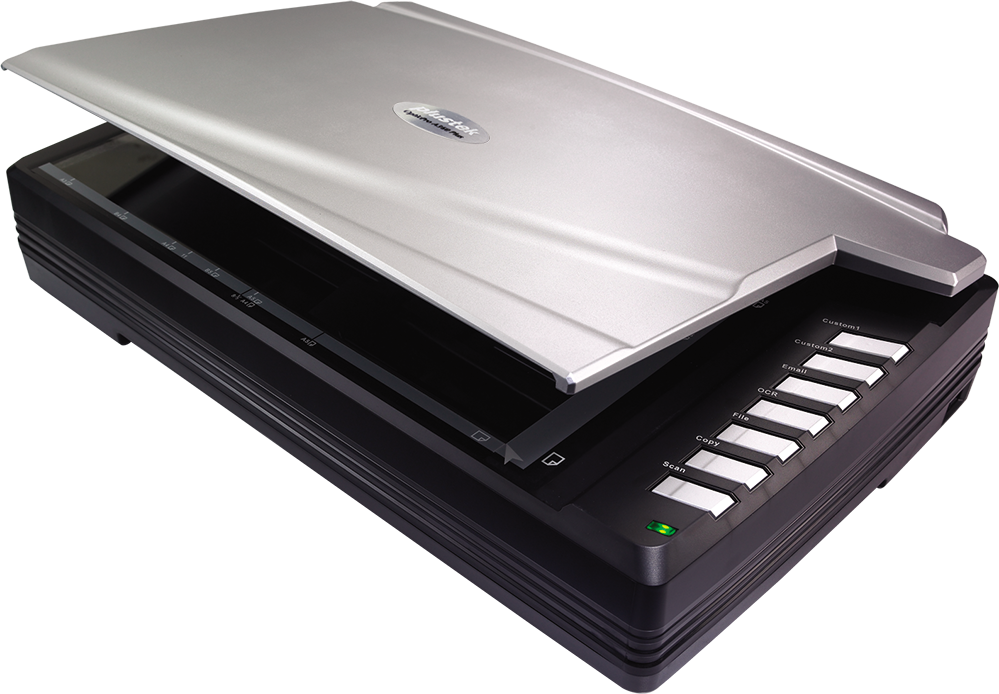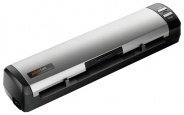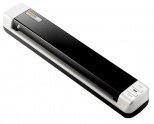 Код товара: 240839
Добавить к сравнению
Отложить на потом
Нужна спец.цена?
Задать вопрос специалисту
Гарантийное обслуживание
Способы оплаты
Минимальная сумма заказа в нашем интернет-магазине 2000 рублей.
Мощность при работе / в режиме ожидания
Максимальный формат бумаги
Максимальный размер документа
Глубина цвета (внешн.)
Тип источника света
Скорость сканирования (ч/б)
Скорость сканирования (цветн.)
Сканер Plustek OpticPro A360 Plus по низкой цене с бесплатной доставкой по Москве (при покупке от 20 000 рублей). Вы можете купить за наличный и безналичный расчет, при этом цена не изменится.
Технические характеристики, цвет, цена не являются публичной офертой.
Обнаружили ошибку в описании? Сообщите нам об этом. Спасибо.
График работы:
будни с 9:00 до 18:00
Офис: 117186, г. Москва, ул. Нагорная, д.20, к.1, оф. 206